Who we are
CREDO Consulting was founded in 2001 to provide consulting services and software to financial institutions.
In 2016, we set up CREDO Software, to host our software activities. Based on lengthy experience, we are confident that we can build and maintain software for complex risk/finance calculations better and at a lower price than our larger competitors. Have a look at our platform and convince yourself.
Owing to large demand, in 2017 we additionally established 'CREDO Analytics' to help both financial and non-financial institutions with their machine learning and big data challenges.
We currently have offices in Belgium (Antwerp) and Prague.
Our exclusively senior team has extensive experience in financial institutions of all sizes and covers all aspects of risk measurements and more complex finance measurements: ICT, data, modelling/validation, governance and project management. We are therefore able to provide end-to-end solutions to our customers.
Meet our team
We are a small, highly specialized niche player – but even so we are growing!
Meet our current team: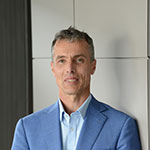 Stefan
CEO and Founding Partner
Stefan started his career in the financial sector on the business side, managing credits and credit risk. During that time he acquired a master in Finance and Applied ICT.
Before founding CREDO Consulting in 2001, he worked as a Functional Architect and Product Manager developing operational components managing credits.
Since 2001, CREDO worked for many financial institutions in Risk and Finance projects implementing tools and building proprietary components.
In 2016 Stefan was one of four founding partners of CREDO Software and CREDO Analytics (CZ).
David
Partner and Senior Risk Modeller

David has been modelling the world on computers ever since he was a teenager. He is a specialist in statistical physics, numerical analysis and parallel computing with a PhD in Aerospace Sciences. He has been involved in heavy number crunching in industry (automotive, steel, aeronautics) and academia (ESA, Russian Academy of Sciences …) prior to moving to the financial sector in 2007.
David got thoroughly acquainted with credit and insurance risk modelling working as a validator. He then acquired a broader view on risk modelling as head of KBC's Group-Wide Risk Modelling team for many years. He joined CREDO in 2015, to return to his roots, namely building high performance software for solving complex problems, such as IFRS9, stress testing, etc. He is also active as a consultant on Risk Modelling and Data Science projects in financial institutions of all sizes.
Outside working hours, you may find David sailing along the North Sea coast or studying Slavic cultures and languages.
Herman
Enterprise Architect and Lead Development

Herman received a master's degree in computer science graduating from the Vrije Universiteit Brussel. He started working in the public administration doing projects on the mainframe. Then he switched to ICT consulting for financial institutions. Firstly implementing applications for credit management and credit process support.
Later on he moved into credit risk and more general financial risk projects getting involved in all phases from architecture study to implementation and delivery.
In July 2004 he joined Credo and continued servicing Financial Institutions in Belgium and abroad helping with implementing third-party risk solutions. He is also taking the lead of the product development within Credo since end 2016.
In his free time you can encounter him riding his bike.
Jean-François
Senior Business Analyst Financial Risk

After graduating from the Solvay Business school and with a degree in ICT I started as a functional analyst in a software company.
Soon I joined CREDO, at first providing consultancy in Credit risk management and reporting (Basel II).
Later for integrating risk management and measurement solutions in major Belgian Banks.
After more than 10 years, the next obvious step was combining consultancy with CREDO software.
Contributing to the design, analysis and build of our high-performance multi-platform solution for risk management and stress testing.
In my free time I enjoy spending time with my family, running and playing hockey.
Tine
Senior Business Analyst Financial Risk

Tine is a Commercial Engineer and also holds a master in Marketing Analysis. She is active in the financial sector since 2005 where she started her career as a SAS programmer in the credit risk domain. From 2007 till 2015 she worked as a functional analyst in both the market risk and credit risk domain. During that period she tackled several topics like the implementation of the Basel III legislation (Large Exposure reporting) and she also gave functional support to local entities on topics like securitization, guarantees, syndicated credits,…
After joining CREDO in 2015, she moved to the insurance industry where she has been working on the implementation of the Solvency II legislation and where she is currently focussing on the automatic creation of the local and group Economic Balance Sheet reporting.
Inge
Senior Business Analyst Financial Risk

Inge has more than 10 years of experience within the banking industry and is still very passionate about her work in this sector. She has an extensive knowledge of financial products combined with strong quantitative and analytical skills. Her main area of competence is within business analysis where she knows exactly how to bridge the gap between business requirements and technical implementation. In her free time you can find her working in the garden or preparing meals for friends and family.
Jos
Senior Business Analyst Financial Risk

Trained as a master of engineering, Jos gathered quite some experience as a software developer in diverse fields. He was building a web shop in the 90's, an epoch when most people in this country had only just heard about email. In the beginning of this century, he was a consultant for the Flemish Government and the Council of Europe. Jos is said to be an original thinker, a non-dogmatic problem solver and a creative mind. Outside work, you can watch his musical performances at stages throughout the country!