We are a proud sponsor of the largest Machine Learning conference in Prague.
Pencil in the weekend of March 21st to meet us at the 1st floor of the magnificent Rudofinum building.
We will attend both days of the conference. Most of the time, you will find us at our CREDO stand in the foyer of the Rudolfinum concert hall, on the first floor.
Visit our stand to learn more about and experience CREDO YQ, our platform for Development >> Deployment >> Delivery of ML products. Moreover, if the odds are in your favour, you will go home with a box of premium Belgian beers!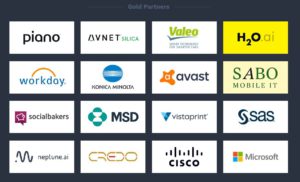 Find a dwarf between the giants; and be sure to reach out to us. We are happy to talk business, ML or just exchange few jokes ;).